OSOM BIN HIRE
MELBOURNE
Fast & Convenient Trusted Supplier
Cost-Effective & Eco-Friendly
Extensive Range of Bins
Flexible Hire Periods
Enter your address for an instant quote on all available skip bins.
Skip Bin Hire Melbourne
Welcome To Osom Skip Bin Hire – a leading provider of skip bin hire services in Melbourne! As a fully insured, licensed skip hire company and with over six different skip bin sizes to offer, we will take the difficulty out of your waste disposal project. No matter if you are planning home renovations, doing garden work or throwing away old furniture, our goal is to make skip bin hire in Melbourne a fast and simple process.
Our Services
OSOM Bin Hire – Skip bins, Mini Bins and Rubbish Bins for hire in Melbourne and surrounding suburbs. OSOM Bin Hire is a Rubbish Skip, Mini Bin and Bin hire company based in Melbourne.
About Us
We have a huge selection of skip bins for hire with prompt delivery across Melbourne. With our bin hire services, you can have a bin delivered to your home and you don't have to spend any time driving around and dealing with rubbish. Talk to the team and let us help you find the perfect size product for your needs. We have a large range of skip bins and mini bins available for hire in Melbourne, from 2 to 9 cubic meters. We pride our self on our reputation of being a rubbish bin, mini bin and Skip bin hire company in Melbourne, and also as a market leader in the waste management industry.
Expert, Friendly Consultants At Your Service:
At Osom Skip Bin Hire, we understand the unique needs of our Melbourne customers and are determined to provide them with the best service possible. Our experts are professionals and will be there to assist you with every step of the waste management process. We will listen to you and help you decide on the right skip bin size for your project. Our friendly consultants will also determine the right spot to place the skip in your driveway, minimising any disruptions to your daily routine.
Same Day Delivery:
Trust the team at Osom Skip Bin Hire for the same day skip bins delivery and pick-up in Melbourne. We are committed to offering dependable service with no hidden costs.
Lowest price guaranteed
Flexible
Same day delivery and pickup throughout Melbourne
Don't stress! Simply Call the experts of Osom Skip Bin Hire for same day service!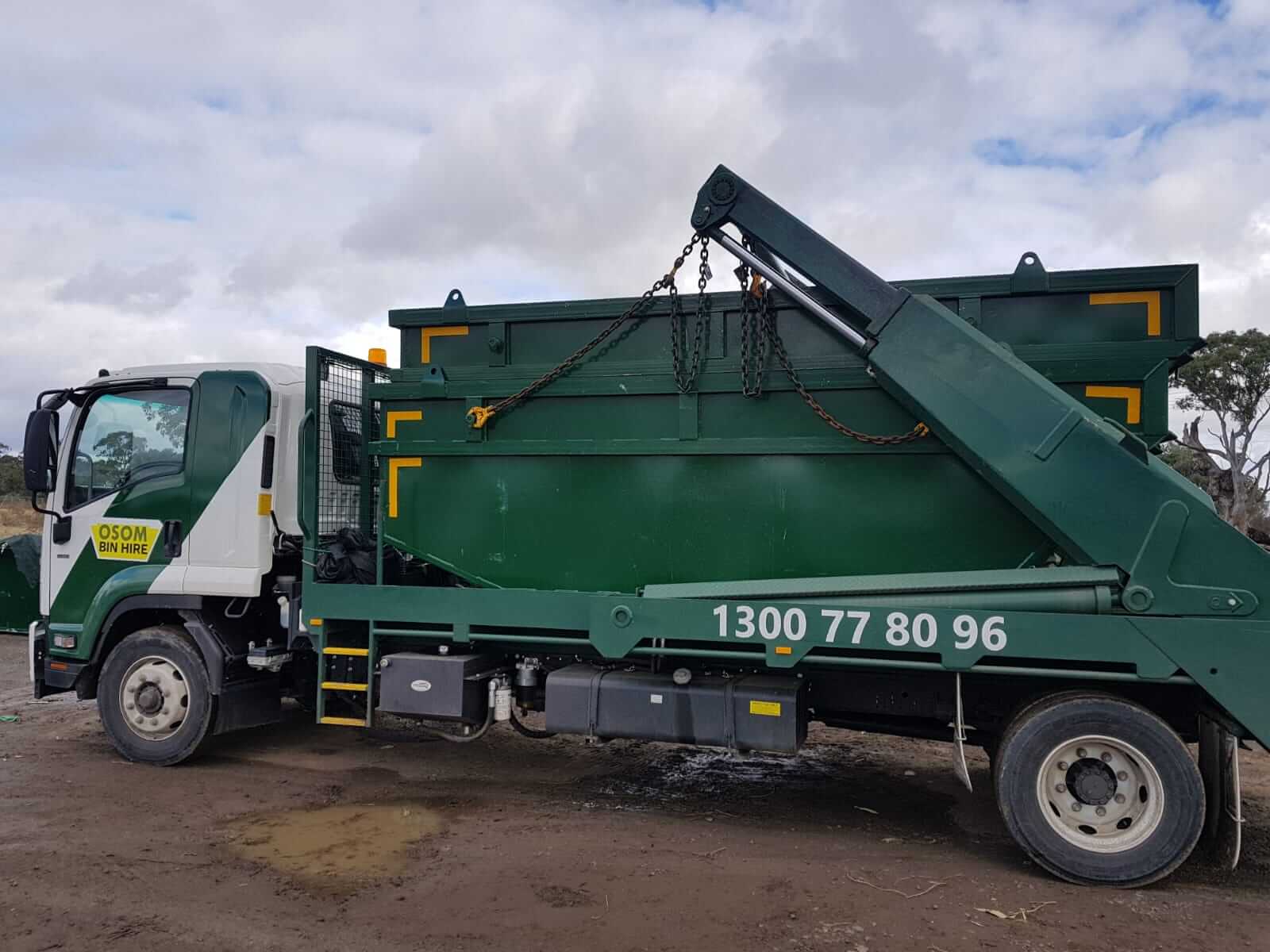 Call Us or Submit the Details Online
We are available 24/7 to answer your queries. Call 1300 778 096 or fill out the form to receive a quick quote.
Receive No Obligation Quote:
When you call us, we will ask for your requirement and provide a quick quote. Or if you have submitted an online enquiry, one of our staff will get in touch with you shortly with further information.
Schedule Delivery Date & Place:
Once you have received the quote and satisfied with it, all you need to do is schedule your skip bin delivery date and place.
Call Us Back To Collect The Waste:
Once you have dumped in all the waste materials, you can call us back to take away the debris at no extra cost to you.
Eco-friendly Waste Disposal:
We recycle 80% of the waste & those which can't be recycled will be transported to a local landfill where your garbage will be disposed of in an eco-friendly manner.
If you're after a reliable & on-time bin hire service, Osom Bin Hire is the name you can count on. From offering different sized skip bins to hauling away the old ones, keeping homes and businesses healthy & clean, we assist all your skip bin hire Melbourne needs for a cleaner & safer environment. Whether it's spring cleaning or regular household cleaning, or an emergency clean up, our range of skip bins is an ideal solution that'll best suit your needs. Order our skip bins online & get them delivered to the doorstep & we'll haul them away for you.
We hope you are satisfied with our waste disposal process and are interested to have our team to help you with your waste management needs! To discuss more about your skip bin hire requirements, feel free to give us a call at 1300 778 096!
Testimonials
Danny Disouza
Great service. Delivered exactly when they said they would which is great!! Having used Osom Skip Bin Hire service for 3 times now, I can highly recommend them!
Mathew Steward
Everything was very easy and simple with Osom Skip Bin Hire. The person helping me with my booking did a great job of assessing the right bin for our needs, the driver gave me a call to let me know when he'd arrive, and coordinated accordingly. I would definitely use their service again if needed.
Paul Johnson
Fantastic experience using Osom Skip Bin Hire!! Booked a skip, found the communication from the team regarding delivery and pickup of the skip was great! Competitively priced and prompt responses to questions. Great work!