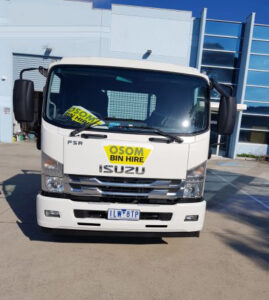 Osom Skip Bin Hire offers high quality, reliable & efficient skip hire and waste management solutions to our customers across Preston and surrounding suburbs. No matter what the type of waste you would like managed, we have got you covered. From concrete, the tree remains and masonry rubbish to commercial and industrial waste, we can provide practical advice and help you with solving all of your waste disposal problems.
Skip sizes:
Our skip bins for hire come in a wide range of sizes to suit your specific needs. The skip bin sizes we offer are as follows:
2m³ Skip Bin
3m³ Skip Bin
4m³ Skip Bin
6m³ Skip Bin
8m³ Skip Bin
9m³ Skip Bin
10m³ Skip Bin
If you find it difficult to decide upon the right skip bin for your project, you can use our skip size guide to choose the most appropriate one for you.
Skip Bins for Domestic Purposes:
If you have a large volume of domestic wastes to be disposed of in an eco-friendly manner, our mini skip bins could be the right choice. These mini bins are designed to remove different types of domestic wastes, including garden waste, garage waste, house waste and electrical waste in an organised manner.
Skip Bins for Commercial Wastes:
Whether you are relocating offices or have industrial wastes to be disposed of, we can deliver the skip bins at your doorstep. Regardless of what type of industry you are in or which type of industrial waste you need clearing, we provide the best waste management solution, ensuring that your business gets back to a clean state quickly.
Skip Bins for Builders:
Our builders' skips provide a convenient and affordable way to dispose of the construction wastes without any hassle. These are most suited to a wide range of construction projects such as home renovation, kitchen & bathroom refurbishments.
No Hidden Cost And No Surprises At The End!
At Osom Bin Hire, we understand every project has a budget, which is why we offer flat rate pricing that includes the cost of skip bin, hauling and disposal of debris. With us, you will know exactly what you are spending beforehand so that you won't be bursting your skip hire cost.
Let's Make Skip Hire Cost-effective & Hassle-Free For You!
We understand the time and financial commitment of our customers that come along with hiring a skip. That's why we strive to transform skip bin hire process as hassle-free and cost-effective as possible for you. Our support team will make sure that you are getting a perfect skip for your project at your requested time and place.
How Can You Benefit From Our Skip Bin Hire Service?
We provide fast, same day skip bin delivery to our customers across Preston.
We offer skip bins for flexible rental period.
We will suggest the most appropriate skip suitable for your waste disposal project.
Our skip bins are made of sturdy materials and available in different sizes.
What Does Our Skip Bin Hire Process Involve?
Fill in our online estimate form with the required information.
Have your skip bin delivered at your requested time and place.
Load all the rubbish into our skip bin.
Call our team to haul away the waste at no extra cost to you.
 Factors Determining The Cost Of Our Skip Bin Hire:
Size of the skip you want to hire
Type of waste you would like to get rid of
How long you want the bin
Delivery location and urgency
Quantity of debris you want to haul away.
Our Skip Bin Hire Is Available For The Following Projects:
Spring cleanup
Garden landscaping
Property renovation
Office cleanout
Factory cleanout
Garage cleanout
Construction site
Much more
What Types of Cleaning Requires Skip Bins?
Spring cleanup
Garden landscaping
Property renovation
Office cleaning
Factory cleaning
Garage cleaning
Construction waste removal
Want to Reduce Your Carbon Footprint?
Our skip bins greatly help you to do that. You can load the recyclable things like paper, glass, and eco-friendly plastics into the bin. Once you finish filling the bin, give us a call or schedule a date to pick up the bin. Our expert waste management team will take your bin to sort facility management, where your items will be given for recycling.
Which Skip Bin Size Is Right for You?
If you are hiring a skip bin for the first time, you may feel confused with hiring the right one. To begin with, you must evaluate the amount of debris you want to get rid of, determine the number of days the work will last and evaluate the type of waste you want to get rid of. If you need help with choosing the right skip size, you can call our support staff for assistance.
Are Skip Bins Eco-Friendly?
Whether you're moving home or decluttering or renovating, you'll certainly run out of time to sort between plastic from paper to glass. When you hire us, we will help sort the items and safely recycle them without damaging the environment.
Why Should Your Hire Skip Bins?
Whether it's your home or office, all tend to get messy and accumulate wastes. With the help of our skip bins, wastes can be properly collected, disposed of in an eco-friendly way. By hiring skip bins from Osom Bin Hire, the amount of trash that simply gets settled on the landfill reduce, so you can have the other items recycled and renewed.
Are Skip Bins Expensive?
No. At Osom Skip Bin Hire, we offer skip bins at affordable prices. We have skip bins available in different sizes and can be used for various waste disposal needs. We drop them at your convenient schedule and pick them once it is filled. From segregation to recycling, we strive to reduce the amount of rubbish that gets settled in the landfill. So, if you think of hiring skip bins for your home project, order skip bins from us.
Are Skip Bins Useful For Office Moving?
Moving your office is a great way to get rid of old furniture and other unwanted items efficiently. From decluttering to arranging, you may have plenty of waste to be thrown away. Our commercial skip bins come in various sizes; you can pick the one based on your requirements and make sure it works for you.
Get Rid Of Constructions Wastes Properly & Efficiently
If you're a builder or a homeowner constructing a new home or renovating, there might be broken glasses, brick, cement and sharp items on the ground. Ensure the safety of your people & fellow workers at the site, use our commercial skip bins that hold any sharp items & you can leave the hassle. We take them away from the site & ensure to drop a new skip bin on the next trip.
Committed to offering you the best service, we schedule the waste collection at the most convenient time for you. For rubbish bins hire and waste management plan, call 1300 778 096 and get in touch with our friendly team today!