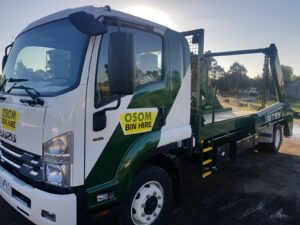 Hunting for skip bins in Epping? Well, look no further than Osom Skip Bin Hire. We have been offering top of the range skip bins for hire that allow you to get rid of rubbish and waste efficiently and responsibly. We have an experienced team of professionals who are always glad to respond to your queries and supply skips to accommodate all types of wastes including, household, commercial and construction wastes.
Skip Bin Sizes:
To meet the exact needs of our customers, we supply a range of skip bin sizes at competitive prices. Whether you are carrying out a large construction project, a small renovation project or a garden clean-up, we have the right skip size for you. From 2m3 to 9m3, we have bins in various sizes to suit all your requirements.
Skips for Domestic Purposes:
Our mini skip bin hire is an economical solution to carry out small domestic projects such as garden clean-up and removal of general household wastes. If you are not sure what skip to order for your project, you can get assistance from our staff who can help you with choosing the correct skip for you.
Skips for Commercial Purposes:
Our rubbish bin hire is great for any commercial, retail outlet, shop & office cleanup, business relocation and disposing of other general wastes. We work with you personally to make sure that you get the proper size bin that meets your needs. All our skips are made from high-quality material, so you can be assured of their durability and strength.
Skips for Construction & Renovation Projects:
Our large skips are ideal for construction projects that involve disposing wastes such as soil, gravel, rubble and other construction wastes. All our skips are large enough to accommodate the construction wastes, making it easier for you to get rid of them without any hassle.
For a competitively priced quote and to discuss your skip bins requirements, call our experienced team at 1300 778 096.