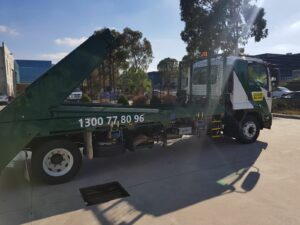 Osom Skip Bin Hire provides reliable and affordable skip hire services to our customers across Reservoir and nearby suburbs. We have a complete range of skips that can all be placed within the construction, industrial, commercial and residential sites. Whether you just need a skip bin for hire or you are looking for a comprehensive waste management plan, you can rely on our expert team for exemplary services.
Skip Bin Sizes
As a trusted and reliable skip hire company, we offer the skip bins in a wide variety of sizes, ranging from 2m3 to 10m3 that are suitable for small domestic jobs to large commercial projects. Committed to dispose of the waste in the most efficient way possible, our skip bin hire team helps you select the most suitable skips for your needs.
Skips for Household Purposes
If you are planning for a residential cleanup or a landscaping project, our mini skip bins are perfect carriers that help you get rid of household garbage in an organised way. These skips are designed to carry wastes such as weeds, loose clay, grass rolls, racked leaves and other rubbish generated from domestic properties.
Skips for Commercial Wastes
Our mid-sized skips are built to carry commercial wastes from offices and retail outlets. Demolished stuff such as metal trash, ice chunks, liquid wastes, computer junks from offices and industries can be easily carried and disposed of with our skips bins.
Skips for Industrial Clearance
Purposed for big projects, our large skips are meant for industrial clearance- allowing you to remove high volumes of rubbish and garbage from industrial sites. Our dedicated team works tirelessly behind the scenes, ensuring that you receive the perfect waste management solution at the most competitive prices.
Reasonable Pricing
Osom Skip Bin Hire always strives to bring you low-cost skip bins to make waste removal affordable. Best of all, we offer reasonable rates with no hidden cost to fit your budget perfectly. Our services save you time as we will deliver the skip bin where you need it, when you need it, ensuring that you don't have to haul away your debris.
How Could You Benefit From Our Skip Bin Hire Services?
With our skip bin hire, you may not be required to spend a lot of time, money and effort to manage your cleanup jobs. From garden debris and household clutters to construction waste, you can get rid of any type of waste without any hassle. Furthermore, our skip hire is available for flexible rental periods so that you can have our skips until you complete the job.
Choosing The Right Skip Bin
Before you determine the right skip size for your project, it is always better to estimate the amount of waste you want to get rid of. Give consideration to the type of waste you want to dispose of so that you will be able to choose the best skip bin for your project. You can also seek the help of our support team to take you through the hiring process.
Uses Of Our Skip Bins
Our skip bins can be used for multiple purposes, including
Isolating unwanted items such as electronic appliances, furniture, and other household goods during spring cleanup
Hauling away garden waste during landscaping
Disposing of demolition waste
Carrying building materials to the confined construction site
Getting rid of waste materials when you are moving home or office
What Would Be The Cost of Skip Bin Hire?
The total cost of skip bin hire will depend on the following factors.
Size of the skip
Type of waste you want to haul away
Length of Rental period
Location where the skip to be delivered
Amount of debris that has to be disposed of
Top Reasons to Choose Us
Skips available in a wide range of sizes
Skip bins can be used for residential, commercial and industrial purposes
Same day or next day drop off facility available
Affordable pricing guaranteed
All skips are available in great quality
Planning a Spring Cleaning?
Know the Benefits of Hiring Skip Bin from Osom Bin Hire for Spring Cleaning
You can eliminate all the clutters
Achieve a mess-free home
Once the bin is filled, our team will haul away the bin, leaving you stress-free
You have the access to choose the bin size that can very well fit your disposal needs
You can eliminate all the excess loads with our skip bins
What is the Use of Hiring Mini Skip Bins?
Mini skips are smaller in size and require a small space.

It works well for home projects like garden clean up, house declutters, rubbish removal, and even for commercial uses.

They are cost-effective and eco-friendly.
At Osom Bin Hire, we offer mini skip bins in various sizes, and it can hold a fair amount of waste. We recommend mini skip bins for your house waste removals and other DIY projects.
How Do Reservoir Businesses Benefit From Our Skip Bin Hire?
Safe and efficient work place can be assured
Flexible waste disposal is guaranteed
Help you remain in compliance with current laws
Benefit from eco-friendly and reduced carbon footprint
Reduced risk of litigation
Is Skip Bin Hire Open During COVID-19 For Reservoir Customers?
Yes. As part of the waste management and recycling industry, we have been delivering our skip bin pickups and deliveries throughout the Reservoir.
We have made few adjustments to our operations and ensure that our drivers are safe and protective during delivery and pick up.
From small to large bins, we deliver the skip bins at your place and ensure to haul away when it is filled.
Keep Your Business Premises Neat & Tidy
Having a skip bin in your location will eliminate the unwanted things safely from the property. Our skip bins come with a covered lid that is airtight, so there won't be any smell issues. At Osom Bin Hire, we have a range of skip sizes, and with prompt and reliable delivery and collection, you can be sure that your business activities are not affected by waste removal.
Skip Bins Are Great For Domestic Waste Disposals
Whether you're renovating your home or doing a spring garden clean up, you must get rid of the waste and other used items safely from your property. At Osom Skip Bin Hire, we have a wide range of skip sizes for household waste disposals and with prompt and reliable delivery; we can customise a waste management solution for your waste disposal needs.
How Safe Is Hiring Skip Bin During COVID-19 From Osom Skip Bin Hire?
Hiring skip bins from Osom Skip Bin Hire is completely safe. We ensure to keep your waste management and waste disposal practices efficient by delivering our skip bin and picking it back throughout the Reservoir. We ensure to follow safety protocols and our drivers wear protective gear during delivery and pick up. Regardless of the size, we deliver the skip bins at your place and ensure to haul away when it is filled.
Eco-friendly Waste Removal
At Osom Bin Hire, we not only provide skip bins for hire, but we also ensure that all the wastes are properly recycled, made into organic compost, and reduce the amount of waste getting dumped on the landfill. So, contribute your part in protecting the environment in the best way possible by hiring our skip bins in Melbourne.  You can order skip bins online and we'll deliver them to your doorstep. Whether it's for house cleaning projects or commercial uses, we have skip bins that accommodate your needs.
No matter what the size of your waste removal project is, we have rubbish bins for your specific needs. For queries and estimate, call 1300 778 096 and speak to our team today!