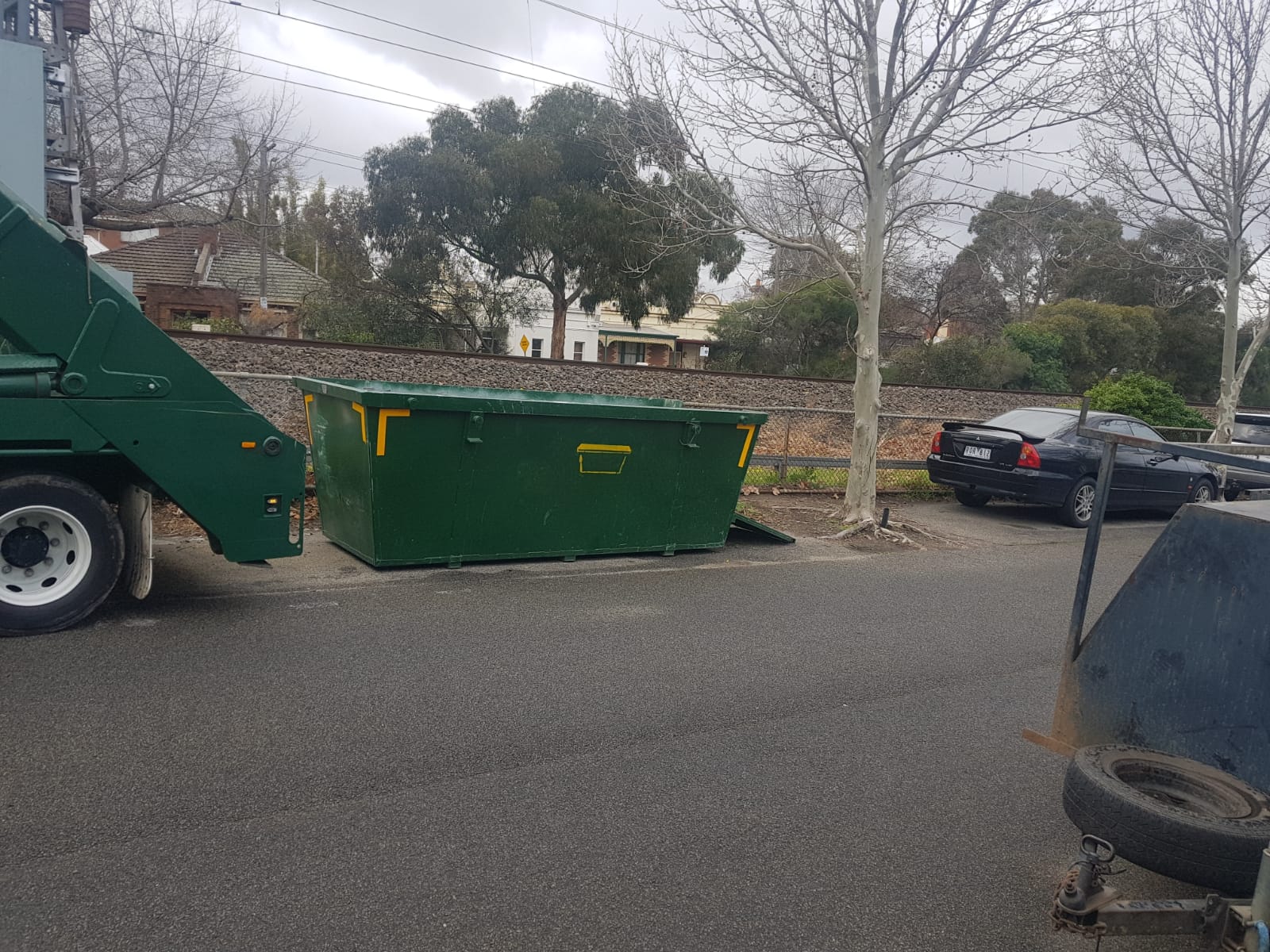 Is there a pile of garbage in your backyard? Looking for a cheap skip bin hire for disposing the waste material? Then, look no further than Osom Skip Bin Hire. Serving residential, commercial and industrial sectors across Bundoora, we stock and supply skip bins in different sizes. No matter how big or small your project is, we have the right skip bins for hire, matching your budget and waste management needs.
Skip Bin Sizes Bundoora:
We realise that our customers have different needs. That's why we stock a variety of skips, ranging from 2m³ mini skip bins to 10m³ large bins that can be used for disposing business waste and domestic rubbish.  If you are not sure what skip sizes can accommodate your waste disposal needs, let us discuss your project and precisely work out the right skip for you. Our skip bin sizes include
2m³ Skip Bin
3m³ Skip Bin
4m³ Skip Bin
6m³ Skip Bin
8m³ Skip Bin
9m³ Skip Bin
10m³ Skip Bin
Residential Skip Hire Bundoora:
If your home has unwanted items, general clutter or garden waste that you want to get rid of, you can choose our skip bin services to dispose your residential waste in an environmentally-responsible manner.
Commercial Skip Hire Bundoora:
Since our inception, we have been working with businesses across Bundoora and helping with all their waste disposal needs. We will discuss with you to understand your requirements and come up with a customised solution for you. Whatever the size of your job can be, we will look after your needs and supply the right skip bin.
Builder's Skip Hire Bundoora:
If you are a builder and looking for an efficient way to dispose of the construction waste, we have got you covered. Our large rubbish bins for hire are sturdy enough to hold demolished and leftover building materials, making it easier for you to dispose of them in a hassle free way.
How Does Our Skip Bin Hire Works?
Simply fill in our online estimate form, mentioning the delivery spot and your required skip bin size.
Let us deliver the skip bin straight at your doorstep at your convenient day and time.
Dump in the waste materials that you want to get rid of.
Call us for pick up and have the debris disposed of at no cost to you.
Why Choose Us?
Regardless of the scale of your project, we will make your waste disposal job a stress-free one.
Ordering a skip with us involves only a few steps that would hardly take a couple of minutes to complete.
We have honest, upfront pricing which means that you will know the total cost beforehand.
Flexible Rental Period & Affordable Pricing:
No matter how big or small your waste disposal project is, we can provide a perfect skip bin at the best possible prices for you. Our rental costs are upfront, so there won't be any surprises at the end. Moreover, every skip comes with flexible rental period, which means that you can have the skip with you as long as you want for a nominal fee.
Different Uses Of Our Skip Bins:
Office cleanout
Factory cleanout
Garage cleanout
Spring cleanup
Garden landscaping
Property renovation
Construction site
Much more
How Do Businesses Can Benefit From Our Skip Hire?
A safe and efficient work place can be maintained
Flexible waste disposal service
Better compliance with current laws and regulations
Eco-friendly and reduced carbon footprint
Reduced risk of litigation
In What Ways Our Skip Bins Help You?
Our skip bins are useful in numerous ways such as
Sorting out unwanted items such as furniture, appliances, toys and clothes while cleaning up.
Storing construction wastes during renovation.
Disposing of waste materials when you are moving home.
Getting rid of garden wastes during landscaping.
Carrying construction materials to the building site.
How to Book a Skip Bin From Us?
Booking a skip bin at Osom Bin Hire takes only a few simple steps. You need to provide all your basic details such as your name, contact information, email, and skip bin size, type of waste, delivery date, and place. Based on the details you offered, we will give you a no-obligation quote. If you accept our offer, we will deliver the skip bins at the scheduled date and time.
Flexible Schedules & Timely Service
Now, with our skip bin hire service, you do not have to wait for the garbage collector to trash the waste. You can simply schedule a delivery at your flexible time and pick-up when needed. We will be on time to collect the bin and proceed with the waste removal process.
Can I Trash Discarded Concrete Waste Into the Skip Bin?
Yes. Sometimes you may have concrete waste, electrical goods, broken glasses, furniture, and light bulbs to trash. Those could be potentially hazardous and might cause injuries while trashing. Our skip bins are sturdy and can accommodate space for any type of waste.
How Much Does Our Skip Bin Rental Cost You?
Your skip bin hire cost depends merely on the following factors:
Size of the skip you are ordering
Type of waste you want to throw away
How long you want to keep the skip bin
Delivery location and the urgency
Quantity of waste materials you want to eliminate.
Cleaning Your Garage?
Skip bins are a perfect way to organise and clear the storage spaces efficiently. If you are planning a garage cleaning and want to discard the items safely, our skip bins can be of great help to you. You can easily organise the area with our skip bins.
Skip Bins Also Help In After-Party Waste Removal
Holding parties and large events are usual for schools, colleges and businesses. Large events often result in producing piles of wastes and if left unchecked, it can bring various issues. Hiring our skip bins is the right way to dispose of the waste effectively and also, it helps you to get back to the routine easily.
Cleaning Up After Big Events?
Hosting a big event? Events like graduation, school events tend to produce a lot of waste and our skip bins is the ideal solution to discard all the waste properly and responsibly. Our skips are best for getting rid of cardboard, paper, drinking cans, food wrapping and other types of waste materials that been used in the event venue. By hiring our skip bins, you can easily save hours of effort on waste disposal and it is cost-effective as well.
Trust Osom Bin Hire Commercial Skip Bins
Whether it's safe containment & construction wastes, general or construction waste disposal, waste disposal isn't your job. Osom Bin Hire's range of Skip Bins is the go-to solution for builders and businesses handling bulky or heavy materials. Talk to us about a short or long-term solution today.
Skip Bins Are Cost-Effective
People often think skip bins are expensive to hire. Skip bins are the cost-effective waste management you can count on. At Osom Bin Hire, we provide cheap skip bins for hire and ensure you will find a skip bin that suits your budgetary needs. Once you book our skip bins online, we will deliver them to your doorstep.
So, the next time when you are in need of a skip bin, give us a call at 1300 778 096. We will get your skip delivered at your doorstep.