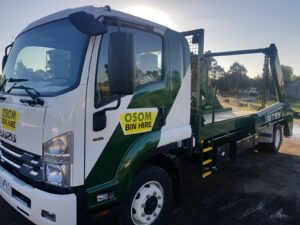 Skip hire is a great way to get rid of rubbish and waste in an efficient manner. Whether you are a construction company seeking skip bin hire services to dispose of demolition rubble or a homeowner who wants to get rid of garden waste, you can count on Osom Bin Hire. With years of experience in the skip hire industry, we have been serving residential, commercial and industrial customers across Eltham and Melbourne areas. Our waste management services can be completely tailored to suit your specific requirements.
Skip Bin Sizes:
To meet the needs of all our customers, we stock and supply skip bins in a range of sizes. From mini skip bins to large ones, we have the right skip size for you. If you are not sure which skip choosing for your specific project, we will be able to offer advice and guidance. Our skip bin sizes include
2m³ Skip Bin
3m³ Skip Bin
4m³ Skip Bin
6m³ Skip Bin
8m³ Skip Bin
9m³ Skip Bin
10m³ Skip Bin
Residential Skips For Hire:
If your household waste is starting to pile up, then you can have them disposed by using our skip hire services. Whether you have renovation waste, spring clean-up rubbish or garden waste, we can supply the ideal skip for the specific purpose and use. We can also arrange a collection service, so you don't need to opt for multiple trips for disposing of your residential waste.
Commercial Skips For Hire:
Our commercial rubbish bins for hire are ideal for disposing of general office and business wastes. With extensive knowledge in dealing with commercial waste, we assure you that your waste will be managed both cost-effectively and compliantly.
Builder Skips For Hire:
We are specialists in disposing of construction and demolition wastes in compliance with the state regulations. Once the bins are filled in with the construction waste, we come to your site and collect the bins, leaving your construction site neat and tidy.
How To Order A Skip Bin?
Ordering a skip from Osom Skip Bin Hire involves a simple process. All you need to do is to provide us with basic information such as your name, contact number, email, type of waste removal, skip bin size, delivery date and place. We will evaluate your details and offer you a no-obligation quote. If you are satisfied with our pricing, we will have the skip bins delivered at your doorstep.
What Sets Us Apart?
We provide quick response and prompt delivery of skip bins at your convenient location.
We offer flexible rental period so that you can keep the skips as long as you want.
We will evaluate your waste disposal needs and recommend the right skip for you.
We have sturdy, spacious skip bins that can withstand even heavy construction debris.
Let's Know Your Financial & Time Commitment:
At Osom Bin Hire, we want to make the skip hiring process as hassle free as possible for our customers. So, let us know your financial and time commitment so that we can personalise our services according to your preferences. We make every effort to ensure that you get the ideal skip bin that suits your budgetary needs.
Benefits Of Our Skip Bins To Businesses:
A safe and efficent work place
Flexible waste disposal
Better compliance with current laws
Eco-friendly and reduced carbon footprint
Reduced risk of litigation
Different Purposes Of Our Skip Bin:
Spring cleanup
Garden landscaping
Property renovation
Office cleanout
Factory cleanout
Garage cleanout
Construction site
Much more
What Factors Affect The Cost Of Skip Bin Rental?
Size of the skip you are looking for.
Type of waste generated by your DIY project.
Rental period
Delivery location
Quantity of waste materials you want to eliminate.
How Skip Bins Can be Helpful to You?
Skip bins are a perfect choice when it comes to cleaning your space.Cleaning is an exhausting process, where you need to clear a massive amount of stuff from your house. However, with the help of an ordinary household bin, you can throw only a limited portion, and that is where skip bin hire comes in.
Our skip bins come in various sizes, and you can discard anything from old boxes to fridges, vessels, hard rubbish, and more.
Why Should You Invest in Skip Bins?
When you are removing waste from your property, all you need is a skip bin to dispose it safely. It greatly accommodates all types of rubbish, and it is a safe method to get rid of the trash in an Eco-friendly way. Instead of going back and forth for disposal, our skip bin hire service proves to be a time & energy-saving option, where you can simply dispose of the items efficiently.
In What Ways Our Skip Bins Help You?
You can easily consolidate your waste.
You will get skip bins that are big enough to hold bulk items.
You can streamline the rubbish removal process.
You don't have to break the bank to get rid of your waste.
You can carry out DIY projects at your own pace.
For any special requirement like same day delivery and extended rental period, you can talk to us so that we can give you a precise quote.
Are Skip Bins Worth The Investment?
Yes. For instance, you need to dispose of large amounts of waste; you'll probably need to make multiple car trips to trash them completely. On top of all, you will have to spend most of your time and effort in disposing of your waste. You can certainly see this is time-consuming as well as expensive.
On the other hand, our skips are available at affordable rates. By hiring one of our skip bins, all you need to do with our skips is to gather your waste and dump it into the bin. We will collect and dispose of the waste for you by saving you time and energy.
Is Hiring Skip Bins Safe During This Covid-19?
As cleaning is necessary during this COVID-19, having them properly disposed of is much important. However, if you're concerned about hiring a skip bin, you can call and talk to us about our preventive measures. At Osom Bin Hire, we value our customer's safety and take additional precautions to provide safe delivery of skip bins, and also follow COVID-19 safe waste removal methods while taking the bin away from the house.
Declutter Your Space With Skip Bins
Is your home space stuffy and overcrowded? It's time to discard them with the help of our skip bins and recycle them for good use. Only when you declutter, you will know the amount of goods that simply occupy your space. Once the skip bins get filled, we will haul them away, segregate and recycle, making less impact on the environment.
How To Properly Dump Your Skip Bin?
When you're throwing the dust into the skip bin, don't just dump it into your skip bin carelessly. Arrange the delicate wastes on one side and heavy materials on top to avoid spillage. Make most of your bin size by neatly dumping them and avoid overloading the skip bin.
Are skip bins worth the investment?
Yes. Our skip bins are sturdy & accommodate all sorts of disposal needs. Imagine taking the bulk loads of garbage bags to the landfills, the number of trips you need to go, money and time – it's an exhausting process altogether. Our skip bins take the hassle away from you, save you money. Our skip bins are more affordable than you imagine. We also haul away the bin for you, making your investment worth it. So, wherever you're in Eltham, order skip bins from us to keep your home & surroundings clean & tidy.
For more information on our bin hire services, we invite you to call us at 1300 778 096 today!