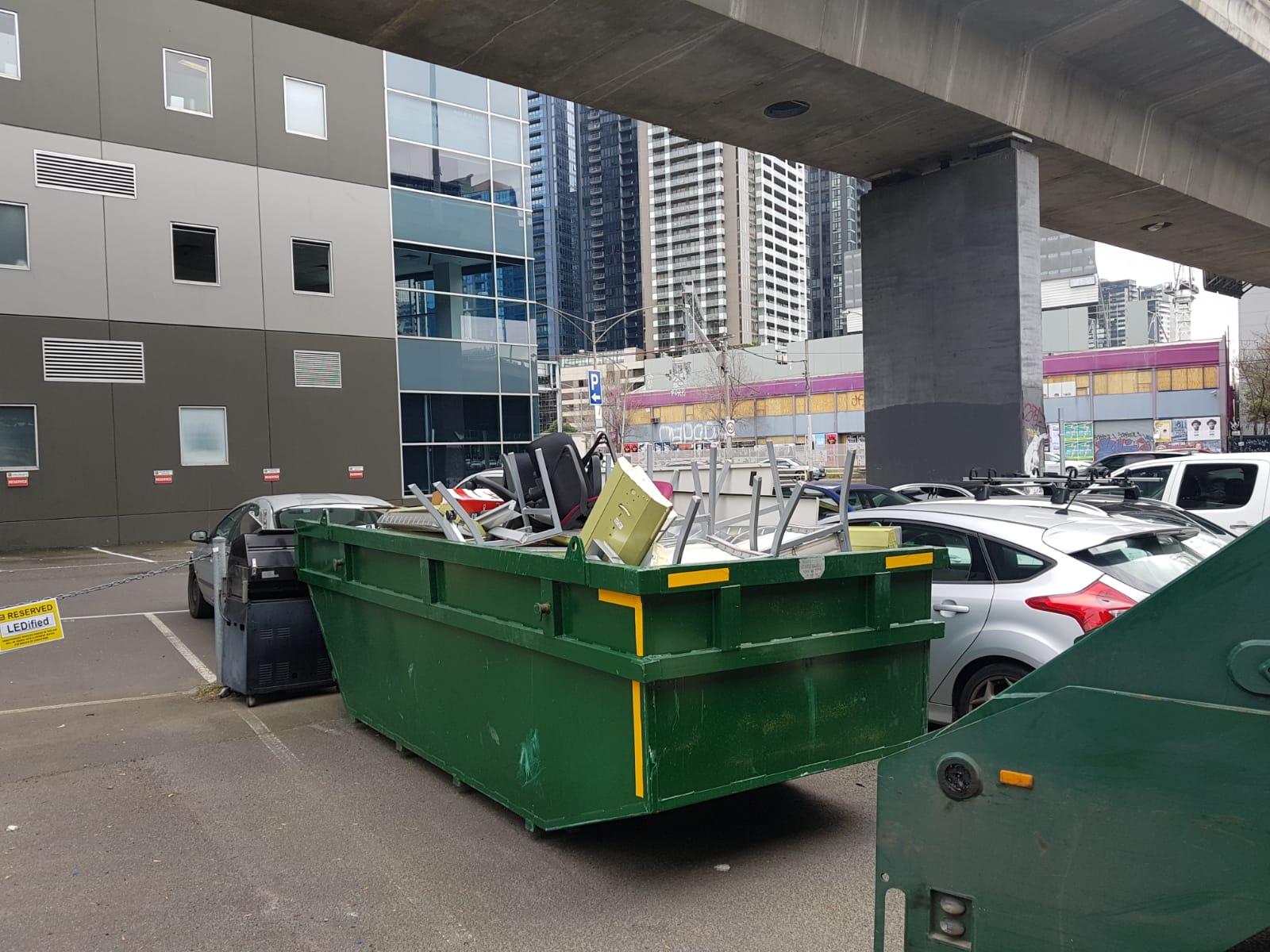 Do you have the trouble of managing your waste in your premises? Need help with disposing of your waste in an eco-friendly manner? No matter where you lie in North Melbourne, you can trust the experts at Osom Skip Bin Hire for your waste removal needs. With a highly trained and qualified team, we have been providing skip bin hire melbourne and waste management solutions to the residential and commercial clients across North Melbourne and the surrounding suburbs at the most competitive prices.
Skip Bin Sizes
Whether you need to skip bin for your personal use or business purposes, we have got you covered. From 2m3 mini skip bins to 10m3 large bins, we stock and supply rubbish bins in a wide range of sizes to choose from. They include
2m3 skip bin
3m3 skip bin
4m3 skip bin
6 m3 skip bin
8 m3 skip bin
9 m3 skip bin
10m³ Skip Bin
If you need help with choosing the right bin size for your waste disposal project, feel free to contact our team. We will consider your requirements and recommend the right bin for you.
What Purposes Do Our Skip Bins Serve?
Our residential skip bin hire is suitable for spring cleanup, garden landscaping and property renovation.
Our commercial skip bin hire is suitable for office cleanout, office moving, factory cleanout and garage cleanout.
Our builder skip bin hire is suitable for hauling away construction waste and carrying construction materials such as sand, cement, gravels, rods, etc.
What Does Our Skip Hire Cost You?
Our rubbish bin hire prices are extremely affordable and depend merely on the size of your skip bin and the length of your rental period. We provide flat pricing on skip bin hire and can get the bins delivered at your door step and pick up them back at free of cost, ensuring maximum savings on your skip bin rental cost.
How To Choose A Right Skip Bin?
Before you decide upon the skip size for your project, estimate the amount of waste you want to dispose of. Also, consider the type of waste you want to haul away as it will give you an idea of which skip bin will suit your project. If you are still unable to pick up the right skip, you can approach our support team who will walk you through the skip hire process.
Easy, competitive & flexible Skip Bin Hire
If you are serious about disposing of your waste in an efficient, eco-friendly and affordable manner, hiring a skip from Osom Skip Bin Hire may be the right choice for you. From determining the right skip to having it delivering at your doorstep and collecting it back, we will make the entire process easy, competitive and flexible for you.
In What Ways Our Skip Bins Help You?
Our skip bins are useful in numerous ways such as
Sorting out unwanted items such as furniture, appliances, toys and clothes while cleaning up.
Storing construction wastes during renovation.
Disposing of waste materials when you are moving home.
Getting rid of garden wastes during landscaping.
Carrying construction materials to the building site.
What Factors Determine The Cost Of Our Skip Bin Hire?
Size of the skip you choose
Type of waste you want to dump in
Rental period
Delivery location
Quantity of debris you want to haul away.
How Do Businesses Can Benefit From Our Skip Hire?
To maintain a safe and efficient work place
Flexible waste disposal service is ensured
To remain in compliance with current laws and regulations
To ensure Eco-friendly and reduced carbon footprint
For reduced risk of lawsuits
What Makes Us Your Prominent Choice?
Well, there are several reasons that make it sensible to hire a skip from us.
No-obligation, free estimate provided to our customers.
Simple and easy skip hire process.
Upfront pricing, with no hidden prices guaranteed.
Same day skip bin delivery available.
Flexible hire period & affordable pricing assured
Keep Your Project Areas Safe With Skip Bins
Project sites tend to have numerous waste that is potentially harmful and there are chances you can get injured by poking with any metal or broken glass. By hiring a skip bin, you can eliminate the piles of waste and ensure a safe working space for your workers.
What Can Be Thrown Into the Skip Bin?
Construction Wastes such as metal, steel, tiles, bricks,
Green Wastes like grass clippings, tree branches, and clippings.
General Household Wastes like old broken furniture like lounges, tables, chairs, and beds, toys, books, bottles, boxes, and other heavy goods.
Unwanted Electronic Goods Removals including televisions, computers, and laptops, stereos, can be trashed into the skip bin safely.
What Are The Types Of Skips Available At Osom Skip Bin Hire?
We stock and supply skip bins for three major purposes, and they are as follows:
Residential Skip Bins – for household clean up, landscape design, and small DIY projects.
Commercial Skip Bins – to dispose of waste generated by businesses and to move office.
Builder Skip Bins – for roofing jobs, demolition projects and concrete debris removal.
Want To Utilise More Space At Your Home?
Skip bins make it easier for you to achieve more space. From decluttering things that are no longer useful to discarding things that simply are occupying your space, you can trash everything that doesn't serve you. By doing so, you can get rid of the items thoroughly safely into the bin, and use the space or your needs.
Want To Have A Safe Building Site?
When you work in the construction business, it's natural that you have to deal with volumes of waste. If you don't properly get rid of the rubbish, it may cause accidents and injuries to the workers. You can avoid this by disposing of your waste in our skip bins. Many commercial building sites prefer using skip bins for the safe removal of hazardous wastes. So, once your project's done, just give us a call to schedule a pickup.
Make Skip Bins As Part Of Your Construction Project
If you're doing a construction project, you have to ensure that building material remains such as timber, electrical wire, metals, and plasterboards to be removed in a fast, efficient way and keep the building site work move to the next level. Heavy-duty skip bins are a great help when it comes to construction sites, where you can get rid of harmful and hazardous materials from the site.
Make Your Office Space Clutter-Free
If you want to achieve a cleaner and clutter-free atmosphere, hiring our commercial skip bins can be the best option. We dispatch the skip bins at your place. Call us for replacing the bin after it is done. Our team will properly haul away the skip bin at regular intervals.
Hassle-Free Waste Disposal With Skip Bins
Waste disposals don't have to be a complicated chore anymore. At Osom Bin Hire, we offer a wide range of skip bins that makes your waste disposals hassle-free and easy. So, call us on 1300 778 096 to get a free estimate. We will drop a skip bin at your doorstep at free of cost and haul them away once you call us. Also, there won't be any stress for you to handle the disposals, we'll take care of everything efficiently & promptly.