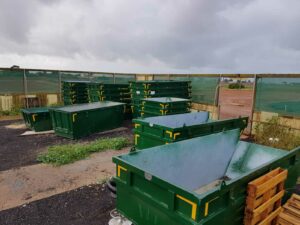 Are you looking for a cheap skip bin hire service in Templestowe? Osom Skip Bin Hire is the perfect place to get it done. As a leading provider of skip bin hire in Templestowe, we have worked with residential, commercial and industrial customers and offered the most affordable prices in the industry. Our skip bin rentals can also be tailored to increase the efficiency of your waste management and to ensure that your project goes as planned. When you choose to hire a skip bin from us, you can expect low prices, dependable service and on time deliveries.
Skip Bin Sizes:
At Osom Skip Bin Hire, we have a wide range of skip bin sizes to fit the specific requirements of any project. Ranging from 2m³ mini skip bins to 10m³ large bins, we have something to suit your waste disposal needs. Our skip bin sizes include:
2m³ Skip Bin
3m³ Skip Bin
4m³ Skip Bin
6m³ Skip Bin
8m³ Skip Bin
9m³ Skip Bin
10m³ Skip Bin
Simple Ordering Process:
It is quite easy to order a skip from us.
Explore our inventory
Pick up the right skip size for your project
Have it delivered at your doorstep
Fill it with waste
Call us to haul away the skip back
How Can Our Skip Bins Be Useful?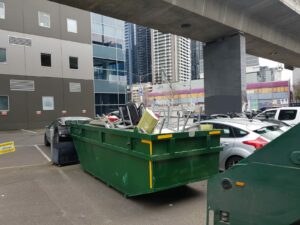 Our rubbish skip bins are useful in many ways, but most of our customers widely use it for the following purposes.
Disposing of household waste
Clearing out garden waste
Home improvement and landscaping project
Hauling away construction materials and demolition waste.
Disposing of business and industrial waste
Much more
Transparent Pricing & No Hidden Cost:
At Osom Bin Hire, we don't want to give unwanted surprises to our customers, which is why we kept our pricing very transparent. This means that you will know how much you will be paying for your skip bin hire right before placing your order. Moreover, our pricing includes the cost of skip bin hire, removal and disposal of waste from your place.
How Can You Benefit From Our Skip Bin Hire Service?
We provide fast, same day skip bin delivery to our customers' doorstep.
We offer skip bins for flexible rental period.
We will suggest the most appropriate skip suitable for your waste disposal project.
Our skip bins are made of sturdy materials and available in different sizes.
Simple, Affordable & Versatile Skip Bin Hire:
If you are serious about getting rid of your household and commercial waste in an efficient, eco-friendly and affordable manner, you would certainly benefit from our skip bin hire services. From determining the right size skip to having it delivering at your doorstep and collecting it back, we will make the entire process stress-free for you.
Hiring The Skip For The First Time? Let's Help You!
If you are hiring the skip for the first time, you may find it tricky to order the perfect-sized skip for your project. In that situation, feel free to contact one of our support staff members who will estimate the amount of debris that would be generated from your DIY project and recommend the appropriate skip bin for you.
Is Same Day Delivery Available For Templestowe Customers?
Our team at Osom Skip Bin Hire is available for the same day skip-bin delivery and pick-up in Melbourne. Once you schedule a same-day delivery with us, we ensure to deliver it on time. We are committed to offering dependable service with no hidden costs.
Lowest price guaranteed
No extra charge for 7-day bin hire
Pay cash and make savings
Same day delivery and pickup throughout Melbourne
Know your Requirements and Identify the Right Bin
Whether it is a spring cleaning or you require a bin that is just for general waste, you should know how much of a clutter that needs to be disposed, depending on the size of the clutter, you can easily pick the bin. If you are still confused to pick the right bin, you can get the help from our team by addressing your waste removal needs.
Moving House? Hire Skip Bin to Get Rid of All the Unwanted Items
Moving into a new home is quite stressful and exciting at the same time. From organising to doing the final cleaning, you may have piles of junk to trash. At Osom bin hire, we have a wide range of bins for waste disposal. So, you can throw all the unwanted items into the bin before you move out.
Reasons To Choose Us:
We have gained immense reputation for providing cheap skip bin hire.
With our quick delivery option, you can have the skip bins delivered the same day.
Our skip bins are of premium quality and can withstand bulky items.
We will dispose of the waste in an eco-friendly way.
Our prices are affordable than our competitors.
We are fully compliant and abide by the required environmental regulations.
How Can I Hire A Skip Bin During COVID-19?
Hiring our skip bins is straightforward. You can just ask for a Skip Bin Quote online or call us on 1300 778 096. Our friendly customer service team will listen to your requirements and seamlessly book your skip bin. You can make the payment online by booking via our website or by using your credit card so that there will not be any risk of virus contamination during payment exchange.
Are Skip Bins Useful?
The best and healthy way of waste disposal is hiring skip bins from us, which helps you in saving some money, time and efforts, and provides a positive impact on the environment. Rather than dumping wastes around your building or in the construction site, our skip bin hire service helps in removing the trash away and protecting your building from infections and contamination. Contact Osom Skip Bin Hire, If you need skip bins and waste removal service because we provide the best in quality and affordable skip bins for hire service.
Is Your Construction Site Safe?
Whether your new build is messed up with construction wastes or want to make your construction site safe and harmless, hiring our heavy-duty skip bins is the ideal solution for all your waste disposal needs. For all construction sites and builders, we provide efficient and responsible waste disposal service that suits your needs.
What You Can't Put You In A Skip Bin?
Things like asbestos, sharp objects, chemicals, flammable materials, electrical wires, and batteries leftover food shouldn't be thrown into the skip bin. If you want to throw them, make sure to spare a thought for the staff that cleans up the bin for you and ensure to dump only the recommended waste into the bin.
Skip Bins Are Your Best Cleaning Tools
When we say skip bins are the best cleaning tools, they complete your cleaning process.  You can declutter anything and everything that you don't want to use or are no longer useful to you with the help of our skip bins. Our skip bins are available in multiple sizes for various needs. So, whatever your cleaning needs, count on our reliable skip bins. You can call us to get your skip bins delivered to your doorstep. Once they get filled up, we'll take away the bin for you.
At Osom Skip Bin Hire, our services are designed to help anyone who wants to dispose of their waste in a hassle-free manner. Call us at 1300 778 096 to have the skip delivered at your doorstep today!