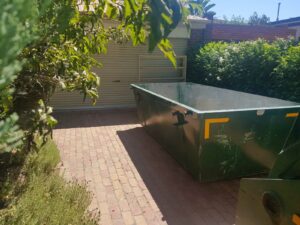 So, you are planning to undertake a project that could generate an excess of debris. Well, hiring a skip bin is a perfect solution to dispose of the waste in an eco-friendly manner. Osom Skip Bin Hire is a full-fledged waste management company that has been helping residential and commercial customers across South Melbourne with all their waste disposal needs. To meet the unique needs of our customers, we stock and supply cheap skip bins for hire in different sizes, ensuring that you are provided with the suitable bin for your waste disposal needs.
Our Skip Bin Sizes:
As already mentioned, we have skip bins for hire in wide range of sizes, shapes and specifications to choose from. Whether you are looking for a skip to eliminate your household waste or confidential business waste, we got you covered. From 2m³ mini skip bins to 10m³ large skip bins, our range of skip bin sizes includes
2m³ Skip Bin
3m³ Skip Bin
4m³ Skip Bin
6m³ Skip Bin
8m³ Skip Bin
9m³ Skip Bin
10m³ Skip Bin
Residential Skip Bin Hire South Melbourne:
Remodeling a house, refurbishing a kitchen, renovating a bathroom or landscaping a garden can generate several tons of waste that should be disposed of in a professional manner. Our skip bin hire services are aimed at fulfilling the waste management needs of homeowners and tenants across South Melbourne at fair prices.
Commercial Skip Bin Hire South Melbourne:
Our commercial skips for hire are suitable for businesses of all sizes, ranging from startups and retail shops to manufacturing outlets and industries. We can help you streamlining the waste disposal project by offering cost-effective skip hire services.
Builder Skip Bin Hire South Melbourne:
If you are a builder and have commenced any construction project, you may need a builder skip for hire for the convenient disposal of construction waste. No matter what the size of the project is, our support staff will assess your needs and advise on the suitable bin for you.
So, the next time you need a rubbish bin for hire in South Melbourne, give us a call at 1300 778 096.