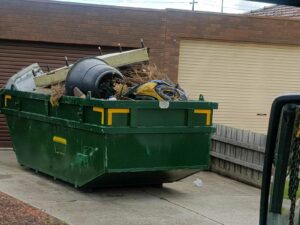 Looking for a cost-effective, professional, hassle-free skip bin hire in Melbourne eastern suburbs? We at Osom bin hire provide skip bin hire services all over the eastern suburbs of Melbourne.
No matter where you live in the suburbs of Melbourne, you can trust the experts at Osom Skip Bin Hire for your waste removal needs. With a highly trained and qualified team, we have been providing skip bin hire & waste management solutions to the residential and commercial clients across the eastern suburbs of Melbourne at the most affordable prices.
Skip Bin Sizes
Whether you need to skip bin for your personal use or business purposes, we have got you covered. From 2m³ mini skip bins to 10m³ large skip bins, we stock and supply rubbish bins in a wide range of skip bin sizes to choose from. They include
2m³ Skip Bin

3m³ Skip Bin

4m³ Skip Bin

6m³ Skip Bin

8m³ Skip Bin

9m³ Skip Bin

10m³ Skip Bin
We offer professional skip bin hire services for a wide range of jobs, be it large or small. With years of experience in the waste management system, Osom Bin Hire service is the best in eastern Melbourne providing prompt and professional waste management services with a wide range of bin sizes to suit your needs. We pride ourselves on completing your waste disposal jobs on time with customer satisfaction.
Our Skip Bin Hire Services Includes:
Skip Bin Hire for domestic & commercial purpose

Waste Management
Why Choose Osom Skip Bin Hire?
No job is too small or too large for us.

Our skip & bin hires service prices are completely affordable.

Customer satisfaction is our highest priority.

We have a wide range of skips & bins or mini skip bins for hire.

We drop off and pick up our skip bins on-time.

We provide 24/7 telephone support for customers.

We offer flexible delivery and collection options, which you can either schedule in advance.
Our friendly and experienced team at Osom Bin Hire are ready to assist you with your inquiry; we will make sure that you are getting the best deal possible with the best service that you can rely on.
We look forward to assisting with your skip & bin hire
At Osom Bin Hire, we deliver professional and affordable skips & bins to hire for anyone on the eastern suburbs of Melbourne. No matter the size of your commercial, residential or construction waste disposal or waste management job, we have the equipment, expertise, and experience to deliver it on time.