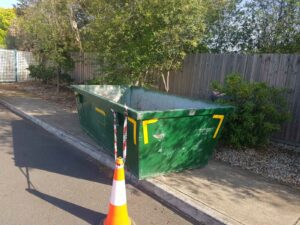 Skip bin hire is needed whenever a huge amount of waste needs to be disposed of. Most homeowners and building contractors hire a skip as it makes waste disposal easier for them. If you are in Elwood and are looking for a skip bin hire company, trust the experts of Osom Skip Bin Hire. With more than a decade of experience in the waste management industry, we have been providing cheap skip bin hire to the businesses and households across Elwood and the surrounding suburbs.
Skin Bin Sizes:
Renting a skip bin seems like a straightforward process, but the truth is that it requires a lot of expertise. That's why our friendly consultants will listen to you and help you choose the best skip bin size for your project. We never up-sell or convince you to pay more than what you actually require. We have different skip bin sizes for different projects, ranging from 2m³ mini skip bins to 9m³ large bins, and help you choose the right one for you.
2m³ Skip Bin
3m³ Skip Bin
4m³ Skip Bin
6m³ Skip Bin
8m³ Skip Bin
9m³ Skip Bin
10m³ Skip Bin
Benefits Of Hiring a Skip Bin:
Our rubbish bins for hire are useful in many ways. From households to industries, they are widely used by our Elwood customers for the following purposes:
Disposing of household waste
Clearing out garden waste
Home improvement and landscaping project
Hauling away construction materials and demolition waste.
Disposing of business and industrial waste
Much more.
Let Us Deliver The Skip At Your Doorstep!
At Osom Skip Bin Hire, we have a team of delivery experts who will bring your ordered skip bin hire at your requested time and place. They don't just deliver the bin but also help you determine the right spot to place it, ensuring minimal disruptions to your routine.
Whether you need a skip bin for residential, commercial or construction purpose, feel free to call us at 1300 778 096.