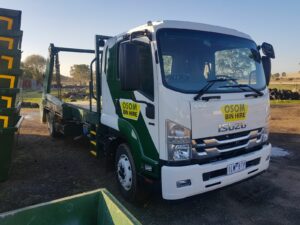 Osom Skip Bin Hire is a leading provider of skip hire and waste clearance services in Northcote. We have a wide variety of skip bins for hire that is suitable for jobs of all sizes. For all your domestic, industrial and commercial skip hire needs, you can rely on our team for professional service. We take huge pride in providing a responsible and eco-friendly service in compliance with the industry standard.
Skip Bin Size:
Osom Bin Hire supplies our customers with a wide range of skips – from mini skips suitable for household waste to large skips apt for large-scale demolitions. The skip bin sizes we offer are as follows:
2m³ Skip Bin
3m³ Skip Bin
4m³ Skip Bin
6m³ Skip Bin
8m³ Skip Bin
9m³ Skip Bin
10m³ Skip Bin
Skip Hire for Domestic Clearance:
Be it a full house clearance, garage clean-up or landscaping, we can supply the best kind of skip bins that allow you to eliminate the rubbish ethically and professionally. Based on the availability of skip bins, we can offer the same day delivery on all domestic skip hire services.
Skip Hire for Commercial Clearance:
For all commercial clients, we offer a waste management solution, ensuring that all the wastes are eliminated compliantly and with minimal disruption to your business. We supply rubbish bins for hire in different sizes and designs, including open and closed models, depending on the type of waste you are likely to dispose of.
Skip Hire for Industrial Clearance:
As a business, it is extremely crucial to clear out your industrial waste in a responsible manner, complying with the waste management legislation. In order to meet the specific needs of our industrial customers, we come up with a personalised waste management solution. So, you can stay relaxed knowing that all your business wastes will be discarded in a legally compliant manner.
If you are interested in any of our services or would like more information about our skip bin sizes, we encourage you to call 1300 778 096 and speak to our experts today!