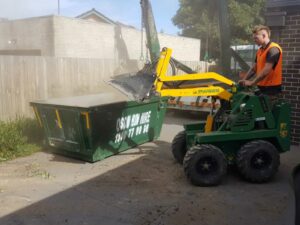 While removing the rubbish and unwanted items like glass, metal wastes, and other hazardous substances, you must wear proper hand gloves and footwear to clear the mess or else it may harm your skin. Osom Bin Hire can help to mitigate this concern by providing high-quality and durable skip bins for customers across Melbourne Southern suburbs. By hiring Osom Bin Hire for your rubbish removal, you can start using it from the initial removal stage and get it hauled away by us. You don't have to waste your time on packing and trips to dump your rubbish. We are just a phone call away and will provide you with accurate waste management solutions.
Skip Bin Hire
At Osom Bin Hire, we have skip bins in different sizes to fit from the small scale projects to large scale industrial projects. From 2m³ mini skip bins to 10m³ large bins, we have a wide range of skip sizes that are designed to meet your needs. Our skip bin sizes include
2m³ Skip Bin

3m³ Skip Bin

4m³ Skip Bin

6m³ Skip Bin

8m³ Skip Bin

9m³ Skip Bin

10m³ Skip Bin
All our skips are made of sturdy stuff and are designed to withstand heavy materials and hard wastes.
Residential Bin Hire
Packing the garbage and preparing your vehicle to throw the rubbish can be time-consuming. When you hire a rubbish bin from us for rubbish removal, you can ease the junk removal process, and get it removed from your space by our team. Our friendly staff members would help in choosing the right skip bin based on your requirements.
Commercial Bin Hire
Our commercial rubbish skip bins for hire are designed to help businesses both small and large. We supply skip bins of various sizes to provide cost-effective solutions for commercial rubbish removal needs.
Builders Bin Hire
Having loads of building rubbish to remove? Our builders skip bins are ideal for your construction companies, manufacturing outlets, and builders, to remove the hard wastes from your property. Our builders skip bins have a high capacity to withstand hard and bulk wastes.
If you are looking for affordable skip bins for disposal across Melbourne Southern suburbs? Give us a call on 1300 778 096 today.