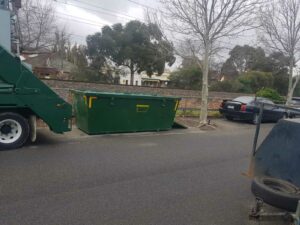 Spring cleaning or house renovation or renovating your building, there is likely a huge amount of wastes to be removed from your space. Hiring skip bins from Osom Bin Hire enables you to dispose of the wastes quickly and affordably. With years of experience and expertise, we have been delivering quality skip bin hire services across Melbourne South East Suburbs.
Skip Bin Hire
At Osom Bin Hire, we have skip bins of different sizes to fit from the small scale projects to large scale industrial projects. From 2m³ mini skip bins to 10m³ large bins, we have a wide range of skip sizes that are designed to meet your needs. Our skip bin sizes include
2m³ Skip Bin

3m³ Skip Bin

4m³ Skip Bin

6m³ Skip Bin

8m³ Skip Bin

9m³ Skip Bin

10m³ Skip Bin
Our skip bins are made of high-quality material that can withstand any hard substance and help you dispose of bulk wastes.
Residential Bin Hire
Disposing of the rubbish is a huge task in big cities. To save your time, and effort you can hire skip bins from Osom Bin Hire. Once you are filling the rubbish, our team will get it hauled away to the nearest depot to dump away all the wastes.
Commercial Bin Hire
The use of skip bins for office rubbish removal is the fastest and efficient way to clear up the mess. From delivering the bin to your office to dispose of the wastes to the depot, we take care of everything to minimise your time and energy.
Builders Bin Hire
Whether its demolition of a building or completion of construction. To throw the rubbish and the unwanted materials from your property, you need builders to skip bins. It is ideal for construction companies, manufacturing outlets, and builders to remove the hard wastes from your property. Our builders skip bins have a high capacity to withstand hard and bulk wastes.
Need a skip bin for disposal? Give us a call on 1300 778 096 today.