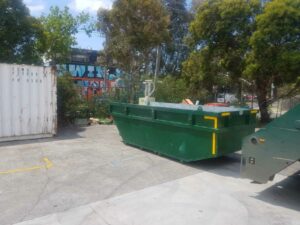 Be it a house renovation, or a construction site, if you have a large mess to clear out; you need skip bins to put all the waste materials. Osom Bin Hire offers a wide array of skip bins for residential and commercial properties across Kingsbury and its nearby areas. Instead of taking the messy task on your own, hire skip bins from Osom Bin Hire. We supply skip bins of different sizes and bulk bins that are sure to meet your requirements. If you are looking for a durable and affordable bin hire, you can count on Osom Bin Hire. With relevant experience and in-depth knowledge in the industry, we provide an accurate solution for your waste management needs.
Skip Bin Hire
At Osom Bin Hire, we have skip bins in different sizes to accommodate minor projects to large scale industrial projects. From 2m³ mini skip bins to 10m³ large bins, we have a wide range of skip sizes suitable for all types of operation. Our skip bin sizes include
2m³ Skip Bin

3m³ Skip Bin

4m³ Skip Bin

6m³ Skip Bin

8m³ Skip Bin

9m³ Skip Bin

10m³ Skip Bin
All our skips are made of sturdy material and are designed to withstand heavy materials and bulky construction wastes.
Residential Bin Hire
Whether you are cleaning your garden or renovating your house, you need a bin to throw all the unwanted wastes. Hiring a skip bin from us would help you in this regard. Our friendly staff members would help you in choosing the right skip bin based on your requirements.
Commercial Bin Hire
Our commercial rubbish skip bins for hire are designed to help businesses both small and large. We supply skip bins of various sizes, where you can simply dump all the waste in an organised manner. We also collect the waste from your place and dispose of them in an eco-friendly way.
Builders Bin Hire
Our builders skip bins are ideal for construction companies, manufacturing outlets, and builders to remove the bulky and hard wastes from the property. Our builders skip bins have a high capacity to hold a huge volume of waste.
Looking for skip bins for disposal? Give us a call at 1300 778 096 today.