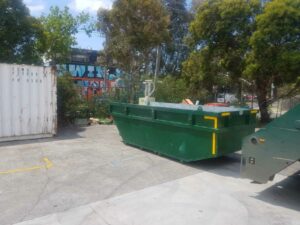 Do you have waste accumulated surrounding your home or office? If so, you should act quickly and get them rid of immediately. Remember that piled-up waste can pose serious health risks to people living in that particular area. Here at Osom Bin Hire, we have been providing cheap skip bin hire to Abbotsford and other Melbourne suburbs, helping the residents to eliminate waste easily. Whether you have garden waste, household waste or business waste, we have the skip to suit your demands.
Skip Bin Sizes:
From 2m³ mini skip bins to 10m³ large bins, we offer rubbish bins hire in a wide range of sizes and shapes. Our skip bin sizes include
2m³ Skip Bin
3m³ Skip Bin
4m³ Skip Bin
6m³ Skip Bin
8m³ Skip Bin
9m³ Skip Bin
10m³ Skip Bin
Are you still unsure of which bins to hire? Please give us a call so that we can help you selecting the right skip for your waste management project.
Residential Skip Hire Abbotsford:
Whether you are planning to construct an extra room, looking to refurbish your dull-looking kitchen or just landscaping the garden, we can recommend and supply the skip that can accommodate your waste management needs. Our residential skips will fit your driveway and allow you to complete the job without any hassle.
Commercial Skip Hire Abbotsford:
Our skip bins for hire are designed to meet the waste management needs of businesses of all sizes. Whether you have bulky, unwanted office furniture or bags of files that you want to get rid of, we have a solution for you. Our experts will deliver the bins at your doorstep and collect them back once you have dumped in everything.
Builder's Skip Hire Abbotsford:
Our builder's skip bins come handy, when it comes to disposing of a large amount of construction waste quickly and efficiently. Once you've determined the perfect skip for your project, we will deliver it at your convenient time and place.
To book a skip, call 1300 778 096 and talk to the experts at Osom Bin Hire today!